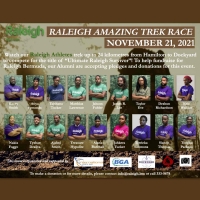 2021 RALEIGH AMAZING TREK RACE - PLEDGE AN ATHLETE TODAY!
Raleigh Athletes Compete for the Title "Ultimate Survivor"
Raleigh Bermuda is known for its adventurous and survival local and overseas training camps. Always with a mission to challenge our young people to reach their full potential, Raleigh Bermuda Alumni will be coming together to compete in a "Trek Race" as a fundraiser for the organization on November 21, 2021.
Raleigh Athletes will trek up to 24 kilometers with a rucksack. The event will conclude in Dockyard celebrating the arrival of the Advanced Trekkers and all participants in the race. The Dockyard celebration will be a private event, but Raleigh is asking all Community Members to cheer and support our Athletes from the streets and from the front lawns of their home!
Participants will be accepting pledges and donations from the community for this fundraiser.
Our Raleigh Athletes are: AJahni Smith, Alana Burchall, Atiya Symonds, Deshun Richardson, Eric Wallace, Jahkera Tucker, Jahson Fubler, James R. Lee, Kacey Smith, Matthias Lawrence, Nakia Foggo, Sianon Thomas, Tajshana Tucker, Taylor Eve, Terrieka Simmons, Tomika Pacheco, Treasure Hypolite and Tyzhae Desilva.
Donate Online using Premier Tickets (Ptix Bermuda):
Please click here to donate online at Ptix Bermuda: "HERE"
To donate via online banking:
RALEIGH INTERNATIONAL BERMUDA
ONLINE BANKING DETAILS: HSBC LIMITED 010-120756-001
PLEASE NOTE ON THE REFERENCE: (Racer's Name)
The event is being sponsored and supported by WEDCO, International Sports Shop, BGA, It's That Type of Party and MADPhotography BDA.