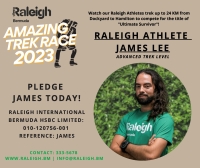 Raleigh Athletes Compete for the Title "Ultimate Survivor" in a Fundraiser Trek Race - Pledge A Raleigh Athlete Today!
Raleigh Bermuda is known for its adventurous and survival local and overseas training camps. Always with a mission to challenge our young people to reach their full potential, Raleigh Bermuda Alumni and Parents will be coming together to compete in a "Trek Race" as a fundraiser for the organization on November 26, 2023.
Participants will be accepting pledges and donations from the community for this fundraiser.
Donate via Online Banking:
Raleigh International Bermuda
HSBC Limited: 010 120756 001
Reference: (Athlete's Name)
Our Raleigh Athletes: James Lee, Matthias Lawrence, Eric Wallace, Alex Rodriguez, Cole Durham, Torrell Stuart, Yeshai Burgess, Ta'Ziyah Kelly, Audrey Dean, Christianna Warren, Nicole Warren
For more information or to donate please contact
This email address is being protected from spambots. You need JavaScript enabled to view it.
or call
(441) 333-5678