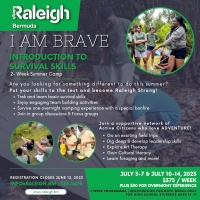 This is a 2-Week summer camp for high school students aged 14 - 17 that gets you moving out of the classroom and challenges you to step outside of your comfort zone. If you are ready for an adventure register now to secure your spot!
Our summer skills development programme focuses on developing the interests and strengths of young people in positive ways and exposes them to skills. I AM BRAVE Summer Skills Development Programme at Raleigh Bermuda will push your young person to 'Find Out What You're Made Of' as they explore the three pillars of Raleigh and experience new adventures daily.
-Learn Practical Survival Skills
-Learn Foraging Skills
-Develop Leadership Skills
-Gain Cultural Literacy
-Work Together as a Team and
-Get an Overnight Camping Experience and more!
Are you Brave? Register now and Find Out What You're Made Of!
Click this link to register online: https://docs.google.com/forms/d/e/1FAIpQLSd11kVVc-KoyqXb37V52hCTsMuqvn138ppoUrhrXomK4UyFvQ/viewform
For more information visit our website at www.raleigh.bm