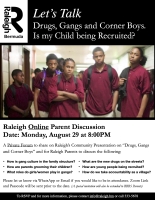 Raleigh Private-Online Parent Discussion
Date: Monday, August 29 at 8:00PM
A Private Forum to share on Raleigh's Community Presentation on "Drugs, Gangs and Corner Boys" and for Raleigh Parents to discuss the following:
• How is gang culture in the family structure?
• How are parents grooming their children?
• What roles do girls/women play in gangs?
• What are the new drugs on the streets?
• How are young people being recruited?
• How do we take accountability as a village?
Please let us know via WhatsApp or Email if you would like to be in attendance. Zoom Link and Passcode will be sent prior to the date.