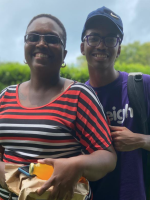 RALEIGH PARENT FITNESS TREK!
Get Your Fitness On! You will trek with a rucksack and climb one of Bermuda's unspoiled forest! 
Calling all Raleigh Parents to join us for this awesome trek which will be LED BY OUR 2022 VENTURERS before they leave to Costa Rica! We will also be welcoming our *NEW Brave Parents into the Family!
SATURDAY, JULY 16
Time: 3:00PM- 5:00PM
Open only to Raleigh Parents.
Location: Meet at Somerset Bridge Parking Lot *Fruit Provided
COME OUT TO SUPPORT, GET FIT AND GET RALEIGH STRONG!